Good Friday marked across the world
Comments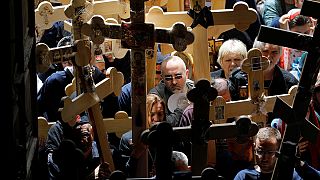 Good Friday events have been taking place across the globe to mark the Bible's account of Christ's crucifixion.
In Jerusalem's Old City, Orthodox Christians took part in the Way of the Cross procession, retracing the route they believe Jesus took to his death.
In southern Poland, tens of thousands of believers also took part in a Passion of the Christ march to commemorate and re-enact the holy day.
A tradition dating back to the beginning of the 17th century, the event draws huge crowds each year.
((00.51 END))