Why Mary Poppins is banned in Germany on Good Friday
Comments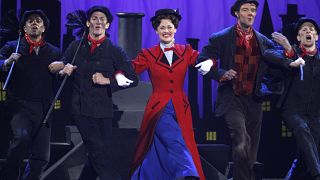 -
Good Friday is considered a stille Tage or "quiet holiday" in Germany. That is, according to constitutional law on the Protection of Sundays and Public Holidays. It also means that activities which "contradict the character" of the day are prohibited, although they vary from state to state in the country.
In Berlin, holiday laws are handled very loosely, which makes the capital an ideal destination for clubgoers – in many states, dancing is not allowed throughout the day.
Restaurants, markets, sporting events, circus performances, folk festivals, and entertainment events such as theaters, operas, musicals and even casinos may also be affected by the Good Friday ban.
In particular, law-abiders should avoid broadcasting certain films publicly on Good Friday – a list which grows year on year. The FSK, a German motion picture rating system which has existed since 1980, oversees a catalogue of films deemed unsuitable for holiday viewing, but a merciful few are added annually. In the 50s and 60s, more than half of all movies were on the 'banned' list, but in 2016 only one percent of requested films could not be watched, according to the FSK.
No Mary Poppins on Good Friday
Among the restricted films are "Robocop", "The Life of Brian" and "Mad Max", as well as children's films such as "Mary Poppins", "Heidi in the Mountains" and German classic "Max and Moritz".
Such films are thought to contradict the "serious character" of public holidays, including Good Friday.
"Films that contradict the character of these holidays so much that a violation of religious and moral sentiment is to be feared [...] receive no holiday release," writes the FSK on its website.
But television, and streaming services such as Netflix and Amazon Prime are free to air horror, satire and action programming on these days. It is rather all about the public screening of films.
The FSK writes: "The cinema is the only one … which is subject to statutory regulation on quiet holidays."