Good Friday: Pope leads 'Way of the Cross' service at Colosseum
Comments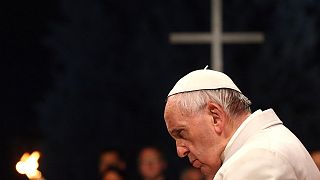 Pope Francis raised the themes of shame and hope as he led the traditional 'Way of the Cross' service at Rome's Colosseum, late on Good Friday.
Amid tight security at the ancient amphitheatre, some 20,000 people watched a candle-lit re-enactment of Christ carrying the cross to his crucifixion.
Francis sat while a large wooden cross was carried in procession, stopping 14 times to mark events in the biblical account of the last hours of Jesus' life from being sentenced to death to his burial.
A candle burns in front of Rome's Colosseum where the Way of the Cross was led by Pope Francis on #GoodFriday. (CNS photo/Paul Haring) pic.twitter.com/3Iz0VtVIgc

— Carol Zimmermann (@carolmaczim) 14 avril 2017
The pontiff asked God for forgiveness for scandals in the Catholic Church and evoked the widespread suffering the world is seeing.
"We come to you this year with downcast eyes, with shame and with a heart full of hope," he said.
"Of shame for all those images of devastation, destruction and shipwrecks that have become routine in our lives."
Francis spoke of the shame he said should be felt over "the daily spilling of the innocent blood of women, of children, of immigrants" and for the fate of those who are persecuted because of their race, social status or religious beliefs.
Pope Francis deplores suffering of migrants, victims of racism and persecuted Christians on Good Friday https://t.co/5mGK3cJarl

— AFP news agency (@AFP) 14 avril 2017
Earlier Francis led a Good Friday mass in St Peter's Basilica.
Among those remembered there were children killed in war-torn Syria and the dozens of Coptic Christians killed in bomb blasts in Egypt on Palm Sunday, ahead of Easter, in attacks claimed by ISIL.
The bloodshed in Egypt has raised security fears for Francis who travels to the country at the end of this month.