Final day of voting in Egyptian presidential election
Comments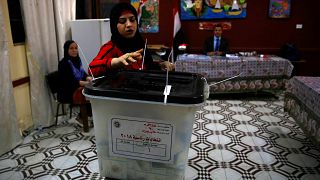 It's the third and final day of Egypt's presidential election and the last opportunity for the government to mobilise voters.
The outcome looks to be a forgone conclusion with President Abdel Fattah al-Sisi expected to sweep to victory, but there is concern that a low turnout could weaken his authority.
Sisi is seeking a second term with the aim of repairing the economic damage of years of political turmoil and of defeating Islamist insurgents.
His sole opponent, Moussa Mustafa Moussa, is himself a Sisi loyalist. More heavyweight challengers were either forced to step down or are boycotting the poll.
Sisi's supporters argue that Egypt is more stable under his rule, But critics say the stability has come at a heavy cost in human rights.