Economic issues dominate Egyptian elections next week
Comments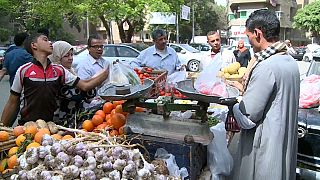 Next week around 60 million Egyptians will head to the ballot box to vote for their next president.
The choice is between the incumbent Abdel-Fattah Al-Sisi, who is seeking a second four-year term, and Ghad Party head Moussa Mostafa Moussa.
Economic issues dominate - with many suffering from tight economic reforms, inflation and high prices over the last two years.
Karam Mohamed, salesman says: "I want prices to be lower, because they are too high, the citizens suffer and the salary is the same. He is the best ruler of Egypt and we want the country safe."
Um Omar, resident says: "The infrastructure is not just building houses and bridges, but it's about building young people, who have graduated but have no jobs."
Sherif, taxi driver says: "The problem is we have two sides, one side wants him and the other one doesn't want him, but if there is no connection between the two sides then the country will stop. The main problem is the people, there has to be a culture of interaction between people."
Many Egyptian voters are hoping that Al-Sisi's inevitable victory will at least benefit the country's ailing economy.
Despite a series of harsh reforms, there has so far been no tangible improvements for the millions of families struggling to survive on low or modest incomes.
Awad, salesman says: "This man wants to do everything for the country with the men beside him."
Karim, student says: "The participation in the elections shows me to be a positive person, I participate because I want to say my opinion, even if I go to cut my vote paper."
Salma, Student says: "The middle-class, who don't feel the high prices will vote with huge turnout, but the lower middle class, who feel the high prices could not participate or their vote is invalidated because their opinion about President Al-Sisi is not like the middle class category."
The presidential race in Egypt is almost determined despite there being two candidates, a low voter turnout is expected, given the widespread belief that Al-Sisi will be re-elected by a huge majority.