Trump 'to expel Russian diplomats in solidarity with UK'
Comments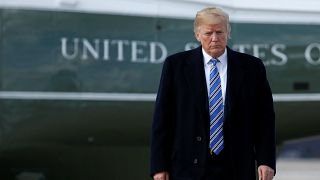 President Donald Trump has been advised to expel dozens of Russian diplomats from US soil and an announcement will likely be made on Monday, according to Bloomberg.
Citing two anonymous sources close to the White House, the news outlet reported Saturday that advisers recommended the action following the poisoning of a former Russian spy in Britain.
The issue was allegedly discussed Friday by Trump, US Ambassador to Russia Jon Huntsman, Attorney General Jeff Sessions, Defense Secretary James Mattis and National Security Adviser H R McMaster.
But the president could still change his mind, a source warned, as he wants to make sure his European allies take equivalent action.
A source added that US officials were coordinating a united response with Europe, where countries including Lithuania, Latvia, Estonia and the Czech Republic are expected to expel Russian officials on Monday.
Ex-military officer Sergei Skripal and his daughter Yulia were found slumped on a bench in Salisbury, England, on March 4. Tests found they had been poisoned by a military-grade nerve agent called Novichok. A highly toxic substance that can prove fatal when used in even minute quantities.
In a speech to Parliament, British Prime Minister Theresa May said it was "highly likely" Russia was behind the attack, considered an assassination attempt by authorities.
The EU and its member states have backed May's call for firm action against the Kremlin, despite its denials of wrongdoing.
Last week, 23 Russian diplomats were expelled from the UK in the wake of the poisoning, while Moscow ejected 23 British diplomats from the capital in a tit-for-tat move.