Russia's ambassador to the EU downplays detoriorating relations with the bloc
Comments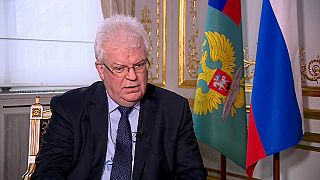 Russia's ambassador to the EU has downplayed detoriorating relations with the bloc.
The EU says it will recall its ambssador to Russia and some EU states say they're considering expelling Russian diplomats.
"I think this is a wholly artificial exercise which came and will pass. Of course the damage has been done, particularly to bilateral Russian - British relations and on the Russia - EU scale" Vladimir Chizov told Euronews.
Also on Friday, Russia's foreign minister Sergei Lavrov said the UK is forcing the EU to have confrontational relations with Russia.
Moscow continues to deny allegations that it was behind the attack on one of its former spies in England.
But German Chancellor Angela Merkel said evidence of Russian culpability presented by British Prime Minister Theresa May was "very solidly based" and promised to take further measures.
"Germany and France agree that additional steps, on top of the recall of the ambassador, are necessary," Merkel said at a joint news conference with French President Emmanuel Macron.
Macron called the attack "unprecedented" and said Europe must respond: "It is an aggression against the security and sovereignty of an ally that is today a member of the European Union. It demands a reaction. This is clear."
In a boost for May, the 28-member EU collectively condemned the attack and declared in a Brussels summit statement that it was "highly likely" Moscow was responsible.