Police question Sarkozy over alleged Libyan campaign financing
Comments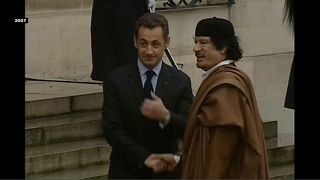 Former French President Nicolas Sarkozy is being held for questioning by the police at the Ministry of the Interior in Nanterre, to the west of Paris.
"It was a case like that. It opened like this. And the money was inside."

French-Lebanese businessman
It's alleged his 2007 campaign for the presidency received 50 million euros in funding from late Libyan dictator, Muammar Gadaffi.
The claims first surfaced in 2014, the result of an interview recorded with Gadaffi three-years' earlier.
"This clown Sarkozy"
In 2011, Euronews' Riad Muasses spoke to the Colonel's son, Saif al Islam Gadhafi, in an exclusive interview about his father's motivation for financing the campaign, and his disappointment in the French leader.
"Firstly, Sarkozy must repay to Libya the money he took for his election campaign. We financed his election campaign and we have all the details and we are ready to publish them. The first thing we ask of this clown Sarkozy is that he repay this money to the Libyan people. We helped him become president so that he would help the Libyan people. but he has disappointed us and very soon we will publish all the details and the documents and banking pay slips".
Briefcases stuffed with cash
In 2016 French-Lebanese businessman Ziad Takkiedine claimed he had delivered briefcases stuffed with cash to Sarkozy and his campaign manager.
It's the first time Sarkozy's been questioned since the investigation opened in 2013.