Former French President Sarkozy in police custody: Euronews sources
Comments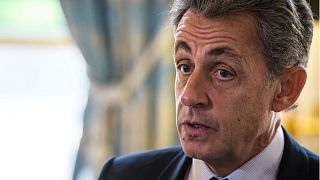 Copyright

REUTERS/Christophe Petit-Tesson/Pool
Former French President Nicolas Sarkozy is being held for questioning by police in an investigation into suspected irregularities over his election campaign financing, sources confirmed to Euronews.
"It was a case like that. It opened like this. And the money was inside."

French-Lebanese businessman
The probe is related to as alleged 50 million euros in Libyan funding for Sarkozy's 2007 presidential campaign.
In 2014, France's second-largest public television channel, France-3 aired an audio excerpt from a 2011 interview with Muammar Gaddafi. The late Libyan dictator claimed that he had financed the 2007 campaign, saying "it's me who made him president".
The claim was accompanied by a signed statement from former Libyan Foreign Minister, Moussa Koussa, to the same effect.
In 2016 a French-Lebanese businessman, Ziad Takieddine, claimed he had delivered the money in a briefcase.
Sarkozy has always dismissed the claims. His lawyer could not be reached immediately for comment.