"Middleman" arrested in UK as part of Sarkozy-Libya funding probe
Comments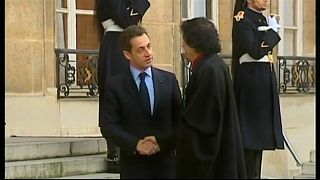 British police have arrested French businessman Alexandre Djouhri in London in a multi-million euro corruption probe involving ex-French President Nicolas Sarkozy.
He was detained by armed police at Heathrow airport. 
Djouhri is suspected of being the middleman between Sarkozy and the late Libyan leader Muammar Gaddafi.
It's alleged Sarkozy was in receipt of millions from Gaddafi, cash which was destined to help fund Sarkozy's 2007 presidential election campaign.
Djouhri is also said to have helped launder some of the money via a property purchase in the South of France, selling it at ten times its market value. It's this transaction investigators want to question Djouri about.
The allegations first emerged from Gaddafi's son, Saif al-Islam when he was detained in 2011.
Djouhri has repeatedly refused to appear in a French court to help with the investigation - hence the arrest warrant passed to British Police.
Nicolas Sarkozy has denied taking covert funding from Libya.