The universe comes together to pay tribute to Stephen Hawking
Comments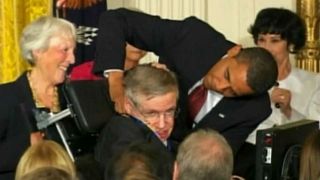 From astronauts, to pop and rock stars, Hollywood royalty, CEOs, presidents and talk show hosts, the universe has come together to celebrate renowned physicist Stephen Hawking, who has died at the age of 76.
"Look up at the stars and not down at your feet."

Physicist and author of "A Brief History of Time"
Cambridge University
NASA
India's Prime Minister Narendra Modi
CEO of Microsoft Satya Nadella
Greenpeace
British Astronaut Tim Berners-Lee
Astrophysicist Neil deGrasse Tyson
Canadian Astronaut Chris Hadfield
European Council President Donald Tusk
Rock star Coutney Love
Hollywood actress Sharon Stone
Aerosmith frontman Steven Tyler
US Talk show host Larry King