Actor Eddie Redmayne pays tribute to Hawking
Comments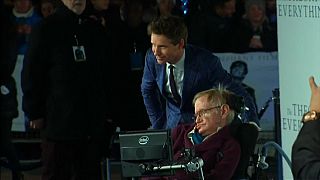 Actor Eddie Redmayne pays tributes to Stephen Hawking who has died peacefully aged 76.
Hawking's work ranged from origins of the universe.... to black holes.
Eddie played Hawking in the 2014 film 'The Theory of Everything' says, "We have lost a truly beautiful mind, an astonishing scientist and the funniest man I have ever had the pleasure to meet. "My love and thoughts are with his extraordinary family."