Turkish army encircles Syria's Afrin
Comments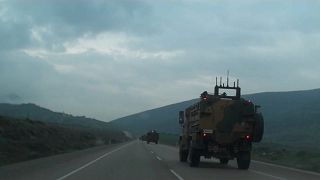 The Turkish army and its allies have besieged the northern Syrian town of Afrin, as well as 90 villages and a nearby town, the Syrian Observatory for Human Rights said on Tuesday, confirming the Turkish military's claim it had encircled the area.
Ankara launched operation "Olive Branch" in northern Syria nearly two months ago to sweep the Syrian Kurdish YPG from the Turkish border.
President Recep Tayyip Erdogan's government sees the YPG as a terrorist group and an extension of the outlawed Kurdistan Workers Party (PKK).
The Syrian Observatory for Human Rights says 700,000 people are now under siege in the Afrin region.
Drone footage captured by the Turkish army earlier purported to show dozens of civilians being stopped from leaving Afrin. The men holding them back were said to be Kurdish YPG fighters – those Turkey wants to clear from its border.