Erdogan dubs student protesters 'terrorists' and threatens university ban
Comments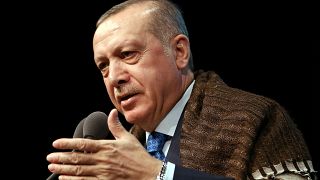 The President of Turkey has slammed student anti-war protesters in Ankara, branding them "communist, traitor youth" for hijacking a stand honouring Turkish soldiers in Syria.
Speaking at a party congress on Saturday (March 24), Recep Tayyip Erdogan announced an investigation, adding: "We won't give these [sic] terrorist youth the right to study at these universities."
The battle of political wills broke out last Monday at Bogazici University, when a student stand labelled "Afrin delight" attracted the attention of anti-war protestors.
The stand was distributing sweets to commemorate Turkish soldiers that died fighting Kurdish militants in the northern Syrian city, when students brandishing anti-war banners confronted them.
A fight then broke out and 12 people were detained, according to Turkey's state news agency Anadolu.
Erdogan's comments came amid reports that the Turks and their Syrian rebel allies had taken "complete control" of Afrin following a two-month offensive against Kurdish YPG militia.
A Turkish army source was quoted by Reuters as saying: "Control has been completely achieved in the Afrin region and search operations are continuing so that local people can return safely to their houses."
Ankara considers the fighters, also known as the People's Protection Units, to be a "terrorist" group with links to The Kurdistan Workers' Party (PKK).
The separatist militants have waged an armed struggle against Turkey since the 1980s in an effort to establish Kurdish autonomy in the region.
But the military operation in Afrin has been criticised by France and the United States, who last month called on Turkey to halt the onslaught in compliance with a United Nations resolution requesting a ceasefire in Syria.