Colombia's conservatives leave Farc behind
Comments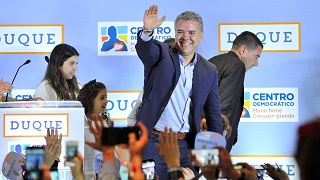 With more than 90 percent of votes counted, Colombia's conservative parties are set to come out on top in the country's elections.
They opposed a 2016 peace deal signed between the government and FARC rebels – which ran as a political party for the first time on Sunday.
It seems no party has an overall majority, although provisional results suggest ex-President Alvaro Uribe's Democratic Centre party won the most seats, provisional results suggest.
As expected the FARC performed poorly, with analysts suggesting their power has dissipated with the downing of weapons. However, the party will still receive five seats in each of the parliament's two chambers as per the peace accord.
Colombians will vote on a new president in May, to replace Juan Manuel Santos, who engineered the 2016 deal.
FARC rebels fought with Colombia's government for over five decades in a guerilla war that killed over 250,000 people.