VR, cinema and jazz: discovering creative industries at the Abu Dhabi Ideas Weekend
Comments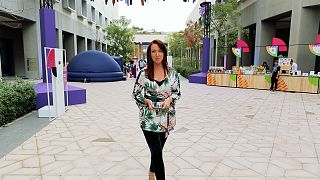 The Inspire Middle East team delves into the world of film and virtual reality at the Abu Dhabi Ideas Weekend, to discover the impact of the latest scientific innovations on the creative industries.
The show also spotlights the region's music scene and hears from one talented emerging artist about how she's playing to packed arenas, producing her own albums and finding time to raise a family.
Plus, to coincide with International Women's Day, we walk a day in the shoes of inspiring UAE residents and hear from the country's Ambassador to the United Nations on the rising numbers of regional women in leadership positions.
Immersive Ideas: Innovation in the world of cinema
Whilst the Ideas Weekend in Abu Dhabi featured closed-door talks by former heads of state including Nikolas Sarkozy and David Cameron, BAFTA and Emmy Award winning documentary maker Anthony Geffen attracted the biggest creative crowd.
The filmmaker's career has seen him travel to the bottom of oceans and the summits of mountains, making documentaries with famous figures including Dame Judy Dench and Sir David Attenborough.
With a wealth of filmmaking experience, Anthony shared his passion for 'immersive' film production with audiences in the capital and revealed why he believes that 360 storytelling is fast becoming a global reality – not least in the Arab world.
"There are a lot of conversations going on in Saudi Arabia and they are very excited about us making immersive domes which don't require a lot of headsets," says Geffen, "And in the UAE, we're producing a massive documentary series on history - including probably my favourite part - which is that you become a pearl diver and actually go pearl diving."
Though on one hand, augmented and virtual reality are reshaping the cinematic landscape, Anthony believes their potential to revolutionize education remains largely untapped.
"Kids now are pretty smart and savvy." Geffen remarks, "They want to be entertained and educated - and so the two go together."
Reflecting on his back catalogue, Anthony earmarked his film about Mount Everest, The Wildest Dream, as one of his most challenging and memorable experiences to date. The danger of filming the expedition was brought into sharp focus on Everest, when the director came across the remains of climbers who had long-ago perished in the inhospitable conditions.
"I got instructions that we had to go for about half a mile and then turn right to Green Boots." Geffen recalls, "So I said, "Green Boots? What do you mean?", and they said, "You'll know when you get there." And Green Boots was a Czechoslovakian climber. He was fully intact with his eyes open.
"From then on, you started to see bodies. And that was pretty weird because you're now in a very strange world. You're in a strange place and you're seeing all these [people] in perfect condition. Some of them sitting down, just as though they'd sat down for a few minutes. It was pretty tough really, in many ways." Geffen added.
At the Abu Dhabi Ideas Weekend, Geffen had some sage advice for those who might one day want to follow in his intrepid footsteps.
"My advice is to pick something that's very manageable and make that particular film." he says, "People get incredibly elaborate and they want to do a Spielberg film or a car chase – but forget it. Think of something really clever, and really controlled, that you can genuinely shoot in a few days. Later people should be ambitious, but in the beginning, you need to be really clever in a simple idea, simple concept, in VR on indeed in filmmaking."
Passionate Pursuit: Soul searching musicians of the Middle East
Another crowd pulling fixture at this year's ADIW was a candid talk about the region's music industry, and a rousing performance, by Lebanese jazz and soul singer Rouba Zeidan.
Since she first appeared on-stage, aged 16, Zeidan has performed at venues holding up to 60,000 people and she's even been the opening act for artists like Missy Elliot. The singer's soulful music is a fusion of Arabic and Western influences, often inspired by her individual experiences.
"My inspiration always comes from a profound emotional shake." she says, "Whether it is positive or negative. If I want to write a song, I can't just decide to sit down now and just write one. I would have had to have gone through an emotional transition of some form."
Despite being a busy mother-of-two, Zeidan continues to chase her musical dream and she found the time to self-publish her debut album, Mamma's Back, five years ago. She points to an underdeveloped regional music industry and limited international reach as the some of the biggest challenges facing artists like herself today.
"Promoting your music is not that easy." says Zeidan "Everyone tells you that you have to be based in London or New York. But my goal is really not to close down arenas. I am doing this because I genuinely enjoy it. And I am not delusional about the whole process of making it famous and making it big. I am fine with my status quo. I'm good!"
As she interacted with aspiring female artists on the ground at ADIW, Zeidan was keen to reassure them that they could fulfil their musical dreams whilst achieving personal happiness.
"Why do we live under the impression that if you get married, your life ends?" she says, "On the contrary, I think we inspire our kids by showing them that we are continuing and following our dreams.
I'm evolving constantly, even my music is evolving, things are good."
Retracing History: UAE Women walk their ancestral route
Passionate about reconnecting with the region's heritage, fifty women prepare to trek 125kms through the UAE's desert, to mark International Women's Day and celebrate the legacy of Bedouin women.
Prior to the oil boom, the desert terrain was a pathway for indigenous women, who commuted from the oasis to the coastal towns to run the local markets during the winter months, whilst the men were away at sea, involved in the pearl diving trade.
The legacy continues to be a source of inspiration for a 27-year-old Emirati NGO worker Meera Al-Mutawa, who will follow in the steps of her ancestors, who had to make the same long journeys to make a living, often barefoot.
"These women who had to do this walk many years ago, they've had this beautiful inner strength that has really inspired me to bring that out in myself," says Mutawa. "It is very encouraging to be able to see women who managed to do it with children, the elderly and with limited resources. They must have been very tough strong women."
In modern times, 43% of the UAE's workforce are women, according to figures from the National Bureau of Statistics.
For inspirational figures such as the UAE Ambassador to the United Nations, Lana Nusseibeh, the rise of female thought-leaders in her line of work makes for an exciting trend.
"60% of the diplomats on my mission are women, and that number simply seems to be increasing," says Her Excellency. "And I think more women are increasingly becoming interested and empowered to take on those [diplomatic] roles."
According to a World Economic Forum report, the occupational gender gap in the Middle East has fallen below 40% for the first time. Nusseibeh is encouraged by the news, stating that increased job opportunities for women has a clear and positive economic impact.
"A McKinsey report showed that global GDP would increase by $12 trillion by 2025 if women were simply included equally in the workplace." she says, "And if you look at the dividends economically for what that would mean for the MENA region, that's a 15% increase in GDP for the MENA region by 2025."
Social eyes: Inspired talent trending online