Toys R Us goes into administration in the UK
Comments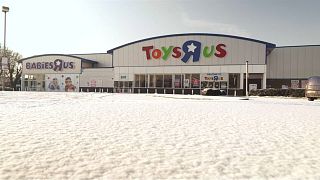 The British unit of Toys R Us has gone into administration, putting more than 3,000 jobs at risk.
It's hoped all or part of the firm will be sold. Toys R Us has more than 100 stores across the UK.
The firm appointed to oversee the process, Moorfields Advisory, said that all stores were to continue trading until further notice, but that the company had entered administration after an "unsuccessful attempt to sell its business as a going concern."
"We will be conducting an orderly wind-down of the store portfolio over the coming weeks... We will make every effort to secure a buyer for all or part of the business," Simon Thomas, joint administrator and partner at Moorfields, said in a statement.
"Whilst this process is likely to affect many Toys R Us staff, whether some or all of the stores will close remains to be decided."
Toys R Us has lately been struggling against internet giants such as Amazon.
Its results over the crucial Christmas period were worse than expected and it's planning to close at least 150 stores in the United States.