Spanish policeman dies in football violence
Comments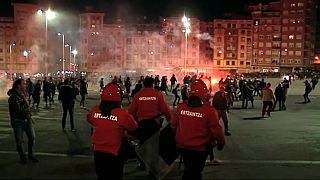 A Spanish police officer was killed in violent clashes between football fans before Athletic Bilbao's home Europa League match against Spartak Moscow.
The officer reportedly had a heart attack after being hit by a flare.
Hundreds of Spartak supporters are said to have travelled to the game without tickets.
Fights broke out after they occupied the town square, prompting an angry reaction from Bilbao supporters and local residents.
There were at least five arrests after rival fans began to hurl glasses and flares at each other.