Trump: 'Arm teachers to keep schools safe'
Comments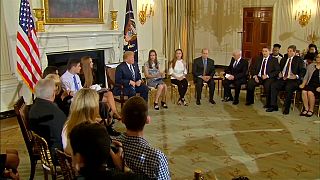 US President Donald Trump has suggested arming teachers could help prevent massacres like last week's mass shooting at a Florida high school.
The president made the comment during an emotional hour-long 'listening session' at the White House, with survivors of the February 14th shooting who urged him not to let it happen again.
"I was reading today that a person, 20 years old, walked into a store and bought an AR-15 in five minutes, with an expired ID (identification card)," said Samuel Zeif, a survivor of the shooting at the Marjory Stoneman Douglas High School. "How is it that easy to buy this type of weapon?"
The father of one of the victims vowed to never let a tragedy like this happen again.
"How many schools, how many children have to get shot? That stops here with this administration and me. And I'm not going to sleep until it's fixed," said Andrew Pollack, father of Meadow Pollack.
Trump's listening session took place as a youth-led anti-gun movement sweeps the US.
Having always championed gun rights Trump says he will tighten background checks for gun buyers.