Pyeongchang 2018 round-up: Broken bones and concussion plague ski cross
Comments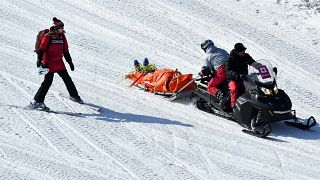 What happened?
Men's ski cross
Canada's Brady Leman claimed victory in the men's ski cross final. The crash-ridden competition saw multiple athletes caught-up in collisions. Russian Sergey Ridzik and Canada's Kevin Drury floored each other early in the race, but Ridzik was able to get up and catch up to grab bronze.
Canada's Christopher Delbosco suffered a broken pelvis and France's Terence Tchiknavorian was hospitalized with a suspected fractured shin after the pair collided in the heats.
Austrian Christoph Wahrstoetter also suffered a concussion after colliding with Sweden's Erik Mobaerg in heat six. It is not known if Mobaerg was injured.
Alpine skiing
Italian Sofia Goggia reclaimed the Olympic downhill gold in the women's Alpine skiing on Wednesday. The 25-year-old beat Norwegian rival Ragnhild Mowinckel by nine hundredths of a second. American Lindsey Vonn took bronze, making the 33-year-old the oldest female medalist in Alpine skiing at the Winter Games.
Team sprint
Cross-country skiing prodigy Johannes Hoesflot Klaebo of Norway cruised to gold with Martin Johnsrud Sundby in the men's team sprint relay
The pair beat runners-up Denis Spitsov and Alexander Bolshunov of Russia by 1.71 seconds, with Sweden's Calle Halfvarsson claiming bronze with Maurice Manificat.
"In the last climb it was a good run from Johannes and there was a big gap, so big that I could not reach." 
On the women's side, American Kikkan Randall faced fierce competition in the form of Norway's Marit Bjoergen, the most successful winter Olympian in history, and Sweden's Charlotte Kalla to grab gold with relay team mate Jessica Diggins.
Speed skating
Japan scooped gold from defending champions the Netherlands in the women's team pursuit final on Wednesday as the Dutch took silver.
Miho Takagi, Ayano Sato and Nana Takagi of Japan set an Olympic record of two minutes and 53.89 seconds.
Photo gallery
Hover over the images and click the arrow to explore the pictures.