Russian figure skater wins OAR's first Olympic gold at Pyeongchang Games
Comments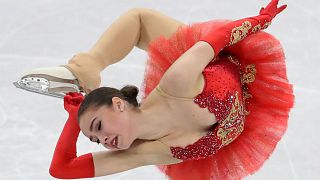 Copyright

REUTERS/Lucy Nicholson
Figure skater Alina Zagitova won the first gold for the Olympic Athletes from Russia (OAR) at the Pyeongchang Games on Friday, beating compatriat Evgenia Medvedeva.
The 15-year-old executed every element of her jump-packed free skate, earning 156.65 points for the performance and 239.57 points overall.
"I'm very happy that I was able to win a medal for our team," Zagitova told reporters. "I think this is only the beginning. Everything is still ahead."
Her friend and training partner Medvedeva claimed the silver medal. 
The Russian Olympic delegation in Pyeongchang last week said it was unhappy that Russian competitors hadn't won an Olympic gold in the first half of the Games, and said it hoped the female figure skaters would change their fortune.
Russians in Pyeongchang are competing as neutrals, a penalty imposed over allegations that the country systematically manipulated anti-doping testing at the 2014 Sochi Games.