We are not seeking a 'Brexit revenge', Jean-Claude Juncker says
Comments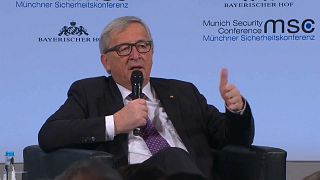 Europe is not seeking 'revenge' for Britain's decision to exit the European Union, European Commission President Jean-Claude Juncker said at this year's Munich Security Conference.
His remarks came as he called for security talks to be separated from the main Brexit negotiations.
"Since we are not at war with the UK and we do not want to take revenge on the UK for what the British people have decided, this security alliance, the security bridge between the UK and the EU will be maintained," Juncker said during the panel discussion at the conference.
"We still need it," he added.
Juncker said Britain and the European Union should resolve trade and other issues related to Britain's exit from the bloc separately from discussions about a security pact with the UK.
May calls for new UK-EU security treaty
Speaking at the same conference, British Prime Minister Theresa May said the issue of security was too important to become entangled in the Brexit negotiations.
"As we leave the EU and forge a new path for ourselves in the world the UK is just as committed to Europe`'s security in the future as we have been in the past," she said.
"Europe`'s security is our security and that is why I have said, and I say again today, that the United Kingdom is unconditionally committed to maintaining it."
May said Brexit would mean that her country would no longer be subject to the jurisdiction of the European Court of Justice, but it would respect the court's role with respect to certain security agencies.
"We must do whatever is most practical and pragmatic in ensuring our collective security," she said.
"This cannot be a time when any of us allow competition between partners, rigid institutional restrictions or deep-seated ideology to inhibit our co-operation and jeopardise the security of our citizens."
May said that leaving the court's jurisdiction should not make it harder to extradite terrorism suspects or share information.