Taiwan earthquake: Children rescued from tilted building
Comments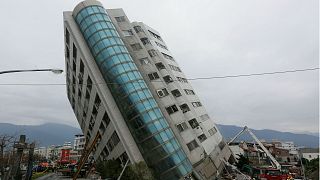 A 6.4-magnitude earthquake struck Taiwan's east coast late last night, leaving at least two people dead and more than 200 injured.
The mayor of the port city of Hualien said on Wednesday another 60 people remained missing, many of whom are believed to still be trapped in buildings.
Many buildings, including a hospital, were severely damaged from the quake. Video on social media shows the rescue of two children from the wreckage of one such building in Hualien.
The Yunmen Cuidi building partially collapsed and was left hanging at a dangerous angle. Rescue workers worked tirelessly overnight to rescue residents trapped inside.
Around 40,000 homes in Hualien were left without water supply and another 1,900 without power in the immediate aftermath of the quake. Electricity has since been restored to most of the homes, but 35,000 homes remained without water supply on Wednesday afternoon.