Another earthquake strikes Taiwan
Comments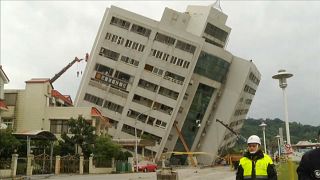 Taiwan's government says the eastern coast has been hit by a magnitude 5.7 earthquake in the same area as the strong quake on Tuesday.
The eartquake came as the search continued for survivors trapped in several collapsed buildings in Taiwan after Tuesday's disaster.
At least four people are confirmed dead and 145 are missing after the magnitude 6.4 quake struck the coastal city of Hualien, which also injured more than 200 people.
Numerous aftershocks have been hampering rescue efforts.
Hualien is home to about 100,000 people and streets were buckled by the force of the quake.
Residents have been told to stay away from their damaged homes, and about 800 have taken shelter in community buildings.
About 40,000 homes are without water, and highways and bridges have been are closed.