Prague court rules government's air quality plan fails to meet EU standards
Comments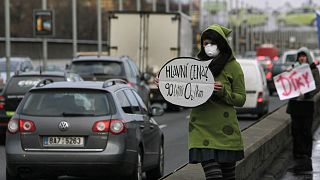 A court in Prague has ruled the Czech government's air quality plan for the city fails to bring air pollution within European limits.
The court on Wednesday called the plan laid out by the Czech Ministry of Environment in 2012 "too vague and unrealistic," according to the non-profit environmental law organisation ClientEarth.
Czech news website Deník said the municipal court ordered the plan to be canceled and drawn up again. However, the reason for the judgment is not yet available.
Last week, the Czech Republic was among the countries reprimanded by the European Commission for infringing on the agreed air pollution limits.
The EU Commissioner for Environment, Karmenu Vella, had demanded the eastern European member find a solution to their air quality problem within one week or face legal action.
Residents of Prague, public interest law firm Frank Bold, and ClientEarth, argue the Czech air quality plan should be scrapped and replaced with one that includes more "concrete actions" to reduce pollution.
A spokesperson for the Czech Ministry of the Environment told Euronews that the municipal court didn't repeal the plan. However, now some parts of the existing plan are not fully binding.
"The measures proposed by the air quality plan will continue to be implemented," said the spokesperson.
The Czech government will analyse the court's decision and propose an adequate solution in the coming weeks.
According to the European Air Quality Index, the Czech Republic falls among the countries with the worst air quality in the European Union.