Several migrants reported injured in shooting in central Italy -media
Comments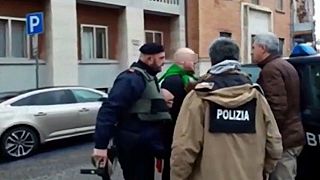 At least six people were wounded and one man arrested in a series of drive-by shootings in a town in central Italy. At least one person is said to be in a critical condition.
A man opened fire on passersby in the central Italian city of Macerata on Saturday, in an attack that might be racially motivated.
Police say the attacker targeted foreigners.  Local media report that those shot at were all black migrants.
"Stay at home until further notice. There is an armed man in a car who is shooting in the city," Mayor Romano Carancini said in a statement posted on Facebook.
A short while later another migrant and an African woman were shot.
The suspect had an Italian flag wrapped around his neck when he was detained.
The incident happens just days after a Nigerian migrant was arrested in connection with the gruesome killing of a young Italian woman.
The website of local newspaper Corriere della Sera said a man fired from a car window at two young African migrants shortly after 11:00 (1000 GMT) on Saturday, injuring one of them.
Shots were reported in different parts of Macerata- which is about 200 km east of Rome- including near the town's train station.
The gunman drove a black Alfa Romeo car. It is unclear whether the attacker was alone.