France: fire destroys Paris kosher store on attack anniversary
Comments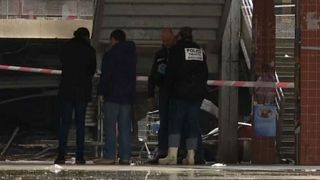 A kosher grocery store in a Paris suburb has been burned down in a suspected arson attack, three years to the day after an attack on a Jewish supermarket by a gunman claiming to act in the name of political Islam.
The alarm was raised in the early hours of the morning, the fire coming days after the store in the southern suburb of Créteil had been defaced with Nazi swastikas.
The "Promo & Destock" store was completely destroyed, its interior gutted. Investigators from the local prosecutors' office believe it was a criminal act, saying the metal shutter had been raised and the shelves set on fire, the AFP news agency reported.
A neighbouring supermarket, which had also been daubed with anti-Semitic graffiti last week, was partially damaged but the flames did not take hold.
The owner of the burned down store is a Muslim who was taken to hospital briefly after feeling faint upon discovering the extent of the damage. "I'm just disgusted," AFP quoted the 44-year-old as saying.
According to the French National Bureau of Vigilance against anti-Semitism (BNVCA), the fire targeted the Muslim owner for his links with the Jewish community.
Israel's ambassador to France, Aliza Bin Noun, took to Twitter to condemn "a shameful provocation" which demonstrated the importance of fighting anti-Semitism.
The motive is not confirmed and the socialist mayor of Créteil has warned against jumping to hasty conclusions, pointing out that there are conflicts between shopkeepers and local drug dealers. However, a Jewish community leader said he believed there was a link between the graffiti and the fire, denouncing a "cowardly act on a day of commemoration".
Three years ago, in the wake of the fatal attack on the magazine Charlie Hebdo, four Jewish people were murdered by a French-Malian national who had held them hostage in a siege at a kosher supermarket in eastern Paris, before he was shot dead by police.
France is home to Europe's largest Jewish community, which makes up around a quarter of Créteil's population of 90,000. Jews in Paris have been targeted in several attacks in recent years.
Figures from the French interior ministry suggest that after a record year in 2015 for anti-Semitic attacks, the next two years saw successive reductions in the number of such acts.
However, a government official responsible for fighting racism, anti-Semitism and homophobia suggested the figures did not tell the whole story. Anti-Semitism remains common and there have been some particularly violent acts against Jewish people in the Paris area in recent months.