Strasbourg's Jews fearful, but staying put in France
Comments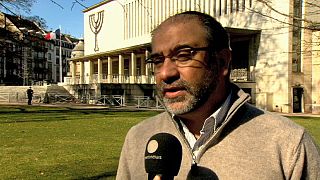 The future of Jews in France became a big issue in Israel's election campaign after the attack in January on a kosher grocery store in Paris.
Israeli leaders urged French Jews to emigrate there, or 'make aliyah'; France is home to Europe's largest Jewish community estimated to be between 500,000 and 600,000 people. In Strasbourg, like in other parts of France, security has been stepped up outside Jewish sites.
"After the attacks and Copenhagen, unfortunately we saw a Jewish cemetery vandalised where more than 300 tombs were defaced. Somehow the community here feels that we are saying to them that we have neither a past nor a future," said Maurice Dahan, an honorary vice-president of the Lower Rhine Jewish Consistory, the name of the local Jewish affairs body in Alsace.
Nearly seven thousand French Jews quit France for Israel last year. But as a leading figure of Strasbourg's Jewish community explains, many wanted a change in lifestyle.
"Nearly of them already had the idea in mind and had already been planned.But those Jews didn't flee France. They completed a project. Some left for religious or spiritual reasons. Others wanted a country where they had a future." said Thierry Roos, a spokesman for the regional consistory.
Israeli Prime Minister Benjamin Netanyahu appealed to Europe's Jews to move to Israel after the Paris attacks in January. But his comments were widely rebuked by European political and religious leaders, who saw them as divisive.
"It puts Jews everywhere at a disadvantage," said Dan Leclaire, an artist who resides in Strasbourg. "The prime minister should not say "Come here, everything's rosy.
"I'm French first and Jewish second. I don't want to have this feeling of fleeing and even less this reaction against something that affects me, but shouldn't make me want to leave when I am," he told euronews.
The city of Strasbourg itself was the scene of anti-Jewish pogrom in the 14th Century. On February 14, 1349, an estimated 2,000 Jews were killed amid claims they had been responsible for spreading the Black Death pandemic that had swept across Europe.