France: Antisemitism is everyone's business
Comments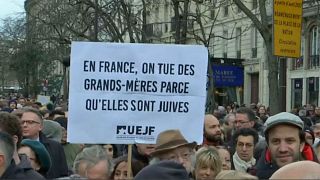 -
A manifesto calling for urgent action against the rising tide of antisemitism in France has been published by Le Parisien newspaper.
Written by co-founder of Charlie Hebedo, Philippe Val, and signed by luminaries such as former President Nicolas Sarkozy, former Prime Minister Manuel Valls, and actor Gerard Depardieu, the document highlights a recent spate of violent antisemitic attacks.
"Antisemitism isn't the business of Jews, it's everyone's business," states the letter, which goes on to note that "in our recent past, eleven Jews have just been assassinated - some of them tortured - by radical islamicists, simply because they were Jewish".
Silence
The signatories observe that, despite media silence and police inaction, French Jews are 25 times more likely than French Muslims to be attacked.
"Why the silence?" asks the manifesto. "It is because radical Islam is considered exclusively by some of the elite French parties as an expression of social revolt... because the old antisemitism of the extreme Right is added to the antisemitism of the radical Left, which has found anti-Zionism as their alibi for transforming the executioners of Jews as victims in society."
Catalogue of violence
Last month, two assailants stabbed 85-year-old Holocaust-survivor, Mireille Knoll, 11 times before setting her body on fire. In January, an eight-year-old boy wearing a Jewish skullcap was badly beaten as he walked in the street.
The manifesto also references the attack on a Kosher supermarket in Paris by a fighter pledging allegiance to so-called Islamic State, and the 2012 killing of three small children and one adult at a Jewish school in Toulouse.
Largest Jewish community in Europe
France has the largest Jewish community in Europe, and the third largest in the world after Israel and the US. However, it's thought that the country's half a million Jews are dwarfed by its Muslim community, estimated at about ten times the size. It is a community which is also shrinking. The letter claims that up to 50,000 Jewish people have been "forced" to leave France as a result of antisemitism.