Spanish court says Catalan separatist Junqueras must stay in jail
Comments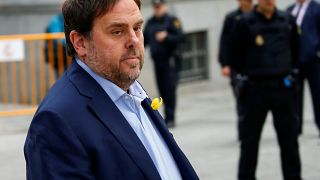 Catalan separatist leader Oriol Junqueras is to stay in custody after a Spanish court rejected his release.
Junqueras has already spent over two months in prison while authorities investigate his role in the Spanish region's independence movement.
The court's ruling states there was a risk that Junqueras would again commit an offence if he were released as there was no evidence to show he had abandoned "the path followed so far".
He is being held on allegations of rebellion,sedition and misuse of public funds.
A December 21 election gave separatists a slim majority in the regional parliament in a blow to Spanish Prime Minister Mariano Rajoy.
The court's decision complicates the separatist parties' search for a leader who is neither jailed nor abroad.