New Year: Here's how different cities rang in 2018
Comments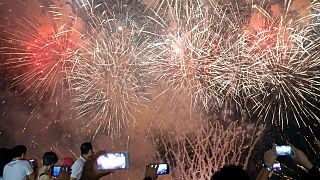 Celebrations will continue to sweep across the globe with Asia, the Middle East, Africa, Europe and finally the Americas stepping into 2018.
New Zealand
Samoa, Christmas Island and Kiribati were the first to welcome 2018. New Zealand was just behind them with crowds gathering around Sky Tower in Auckland where pyrotechnics exploded from the top of the structure.
Australia
Revellers in Sydney were not disappointed as a display lit up the sky above Sydney Harbour including a rainbow waterfall cascade flowed off the harbour's iconic bridge to celebrate the legalisation of same-sex marriage.
South Korea
Thousands of people lined the streets near Seoul's City Hall for a traditional bell-tolling ceremony, followed by an impressive fireworks display to usher in the new year.
North Korea
The country's state-run television KRT showed fireworks lighting up the sky above Taedong River in Pyongyang, where thousands of people gathered to mark the New Year.
The United Arab Emirates
Dubai greeted 2018 with a dazzling fireworks display and light show on the Burj Khalifa skyscraper. 
The country was vying for a Guiness World Record from its celebrations for the largest laser light and sound show on one single structure.
Russia
A fireworks display over Moscow's Red Square rang in 2018 in Russia's capital.
France and Germany
Crowds in Paris were treated to a light show on the city's iconic Arc de Triomphe that included a countdown display to midnight, while revellers in Berlin were treated to fireworks over the Brandenburg Gate.