Greece applies to cancel asylum granted to Turkish soldier who fled attempted coup
Comments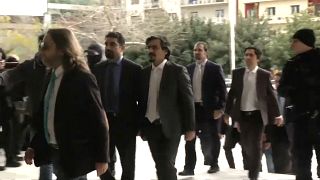 A court in Greece has granted asylum to a Turkish soldier who used a military helicopter to escape last year's failed coup in Turkey.
The court found no evidence that the man - who was the helicopter's co-pilot - played a part in the coup himself and said he would be persecuted for "political crimes" if he was returned to Turkey, according to GreekReporter.com.
He would now be released from custody, police said on Saturday.
But Greece's government said it would appeal the decision in a higher court after Turkey said relations between the two countries would be affected.
More than 200 people died in Turkey in July 2016 after sections of the army attempted to overthrow the government in Ankara.
When the coup began to fail, eight soldiers in total fled to Greece using a Turkish military helicopter.
The co-pilot is the first on board to be granted asylum. The remaining seven were previously rejected and have been kept in protective custody.
Athens said it was following its standing position regarding the eight soldiers "as it has been repeatedly expressed, also in public", a government official said.
The Greek government has said that it does not support coup plotters and that the country's justice system is independent.
But Turkey attacked the court's decision, highlighting the tense relations that exist between the NATO allies.
"By granting asylum to one of eight coup plotters involved in the July 15 coup, Greece has once again showed that it is a country that protects and embraces coup plotters with this decision," a Turkish foreign ministry statement said.