Former Peruvian football boss cleared of corruption
Comments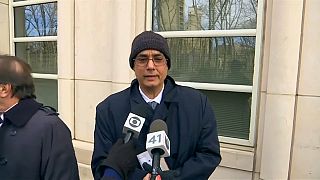 A Peruvian football official accused of racketeering has been cleared by a jury in the US.
Manuel Burga, who headed the sport in Peru until 2014, was suspected of taking cash in exchange for distributing marketing and media rights to matches.
Outside the courtroom, he said it had been an ordeal for his family and that he was eager to spend time with them in Peru.
"I don't have any feelings of revenge or anything like that. Just God will be the only one who will see those things. From now on I look forward."
Two other South American football officials were found guilty by the same jury. The convictions stem from investigations into FIFA corruption in which U.S. prosecutors have charged dozens of people