Philippine ferry carrying 250 passengers capsizes, many feared dead
Comments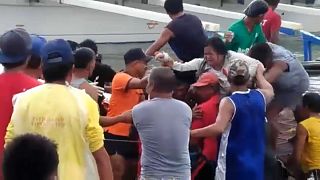 Copyright

Kyle Villanueva Buerano
At least four people were killed when a ferry carrying 251 passengers capsized and sank during stormy weather on December 21 near Dinahican Point, off the east coast of the Philippines, according to the national coast guard. Another seven were reported missing. 
Nearby fishermen and the coast guard hurried to rescue survivors after the incident. The coast guard spokesman, Armand Balilo, said rescue efforts would continue into the night. 
"Search and rescue operations will continue until all crew and passengers are accounted for," said coastguard spokesman Captain Armand Balilo.
Two men and two women drowned when the ferry capsized. 
The incident occurred in the waters between Quezon province's Dinahican Point and Polillo Island.