Police shoot knife-wielding man at Amsterdam's Schiphol Airport
Comments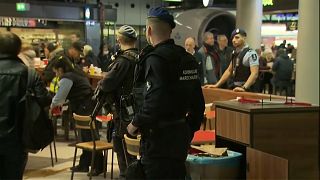 A man wielding a knife has been shot and detained by military police at Amsterdam's Schiphol Airport.
No other injuries have been reported.
Schiphol Plaza, the airport's shopping area, was evacuated straight after the incident but has now been re-opened.
The "situation is now safe," the armed forces unit said.
The suspect is described by police as a 29-year-old man from The Hague.
In a Tweet, the police said the man was "known to police in connection with previous violent incidents".
Police say the man had made threats with the knife.
Details about the suspect's condition and his injuries are not yet known.