Even Europe's money can't stop climate change refugees: View
Comments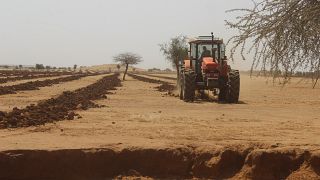 -
Copyright

Thomson Reuters foundation
By Alim Baluch
Europe has to decide whether to opt for solidarity or become a fortress sealed off from Africa and paying autocrats and warlords to stop the refugee flow.

University of Bath
There is no reason to be hopeful when it comes to the African refugee crisis. The flow of refugees cannot be stopped, as EU Foreign Policy Chief Federica Mogherini has admitted in a recent interview on Euronews. Nonetheless, the President of the European Parliament, Antonio Tajani, called for a Marshall plan for Africa to reduce immigration. To that end, the next budget should entail €40 billion for investments south of the Mediterranean.
Of course, the idea of throwing money at the problem is not innovative and does not do justice to the diverse nature of the vibrant African continent as it further perpetuates the tendency in Europe to frame Africa as a disaster zone in need of Western help. Nonetheless, climate change is hitting large parts of Africa particularly hard and will continue to escalate migration from, and within, the continent. Even the stronger economies of countries like Angola or Gabon will not be able to absorb sufficient numbers of climate refugees.
Africa is already severely affected by climate change. 80% of the potential 20 million hectares of rain-fed lowland rice are threatened by drought, a terrifying report by the Environmental Justice Foundation concluded.
"Sub-Saharan Africa faces the highest risk of changing weather patterns; the region is home to 17 of the 20 countries most economically reliant on agriculture and among the worst-placed countries to withstand repeated disruption to harvests. "
This effect is exacerbated by the fact that the population of sub-Saharan Africa is much more dependent on local food production than Europe. Unsurprisingly, agriculture makes more than 30% of national GDP in Burundi, the Central African Republic, Guinea-Bissau, Liberia, Sierra Leone, Republic and Rwanda. "All of these countries have low resilience to withstand climate change, and recent conflicts within each increases the risk to their populations", the report further points out and elaborates on how perfect climatic conditions are being created to allow for utterly devastating locust swarms.
Breakdown of civilisation
The climate refugees will not be able to eat money. But it is nonetheless commendable that Tajani is drawing attention to the problem of refugees as the crisis will not go away. Unfortunately, Northern Africa is suffering from severe climate change as well and oil-rich Libya is no longer the anchor of stability it once was.
Until 2011, Libya's economy was attracting hundreds of thousands of work migrants from Sub-Saharan Africa. Following the bombing campaign of Libya by British, French and US forces, the country suffered a breakdown of civilisation. Al-Qaida affiliated militias took over Tripoli, including the airport, and Isis took control over the Eastern town of Derna – almost the entire country is controlled by various militias. Sub-Saharan work migrants found themselves at the mercy of racist criminal gangs.
Today, thousands of migrants are incarcerated in concentration camps (although most media prefer the term detention camps) where they are subject to torture, rape and murder, but more than anything they are considered a human resource for criminals who trade them as slaves. At the AU – EU summit on 1 December, Juncker rightly remarked "[…]it is neither conceivable, nor acceptable for Europe to close its eyes to this tragedy, a daily tragedy for so many people – children, women, men – in Libya."
No wonder that Obama distanced himself from the Libyan disaster. In an interview with The Atlantic in early 2016, Obama was asked about possible mistakes of his presidency. "When I go back and I ask myself what went wrong… there's room for criticism, because I had more faith in the Europeans, given Libya's proximity, being invested in the follow-up." He was even quoted calling Libya a "shit show". If one remembers the UN Security Council Resolution 1973 which allowed all necessary measures to prevent human rights abuses, one has to wonder why the current human rights abuses are not considered worthy of intervention.
In this context, it is regrettable that the most important item on President Tajani's agenda is to reduce migration instead of dismantling the criminal structures which allow for large-scale human trafficking and slave trade. In Libya, Britain and France, in particular, have lost any semblance of credibility when it comes to human rights and state-building. Perhaps it is a good sign that the European Parliament is putting the new Marshall Plan on the agenda. But this Marshall Plan, if ever implemented, may come too late, as climate change progresses.
Solidarity or fortress
However, inaction is not an option. What should the EU do?
First, the EU and its member states must under no circumstances strike a deal with any of the militias operating in Libya. The European Parliament should put pressure on France and the UK to finally take responsibility for the destruction of Libya and agree to an increased intake of African refugees. If the EU wants to seriously tackle mass drownings in the Mediterranean, it has to press for a more liberal approach towards legal immigration from Africa.
Legal routes for entering Europe must be seen as a viable option and facilitated in Africa in order to reduce human trafficking. In times of escalating xenophobia across member states, the supranational actors in the EU must dare to be the voice of reason and uphold the values of the EU whose community ethos is supposedly built upon inalienable human rights. This means Europe has to decide whether to opt for solidarity or become a fortress sealed off from Africa and paying autocrats and warlords to stop the refugee flow. So far, the latter seems to be closer to the truth. Solidarity would also mean solidarity with Italy and Greece who are bearing the brunt of the daily crisis in the Mediterranean.
Moreover, the EU has to stop European fishing vessels from contributing to the over-fishing across the West-African coastline. Loopholes in the regulatory environment must be closed. The EU should then aggressively pressure China to follow its example by drawing more attention to China's opaque exploitation of African resources. Normative pressure can be used as geo-strategic leverage once sufficient credibility is established.
As for climate change, the EU will not be able to reverse it. Conservation biologist Guy McPherson famously considers the entire human species could become extinct in the near future due to abrupt and exponential climate change. We can take comfort in the fact that most climate change experts are slightly less pessimistic. But either way we have to come to terms with the unremitting nature of global warming. It will get much worse.
Alim Baluch is a teaching fellow at the University of Bath, specialising in German politics and society.
The views expressed in opinion articles published by Euronews do not represent our editorial position. If you want to contribute to our View section, email ideas to: view@euronews.com