5 things you need to know about the 'One Planet' summit
Comments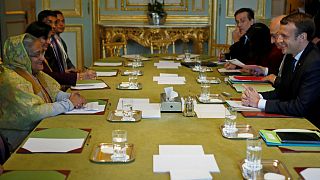 Copyright

REUTERS/Francois Mori/Pool
World leaders are gathering today (December 12) in Paris for a major climate change meeting called the "One Planet" summit.
The summit is being held to mark the two-year anniversary of the Paris climate change agreement, a landmark deal that created a legal framework uniting the actions of countries around the world, including the main emitters of greenhouse gases.
Here are five things you need to know about today's event:
Who and where?
The summit is being hosted by French President Emmanuel Macron, UN Secretary-General Antonio Guterres and World Bank President Jim Yong Kim.
More than 50 world leaders are attending, alongside NGOs, entrepreneurs, investors, government members, local stakeholders and scientists.
It is being held at La Seine Musicale, a new cultural centre in Paris inaugurated in April 2017.
**2. What is the aim? **
The summit is being held under the theme "Climate Change Financing." It seeks to mobilise funding to advance projects fighting climate change, including renewable energies, clean transport, agriculture, buildings and sustainable cities.
Organisers say they hope "to find new means of financing the adaptation of our ways of life to inevitable transformations, of further speeding up the reduction of greenhouse gas emissions, and of ensuring climate issues are central to the finance sector."
3. What will happen?
During the one-day meeting, some 20 green projects from around the world will be showcased in roundtable meetings and presentations. 
The summit says the projects "illustrate the fact that concrete local and global solutions exist to address the challenges we face" that should be boosted and replicated.
Projects include the Climate Reality Leadership Corps, a global network of activists committed to spreading awareness of the climate crisis and working for solutions, and the LDN Fund, an investment vehicle that leverages public money to raise private capital to finance climate and development objectives simultaneously.
4. What is the difference between the summit and a COP?
The summit is being described as a "complementary process" to a conference of the parties (COP).
COPs, such as the one in 2015 when the climate change agreement was signed, are a time of negotiations between states within the framework of the United Nations. Today's event is aimed at reinforcing the goals of such meetings.
5. How does it tie in with other climate efforts?
The summit is part of ongoing international efforts to tackle climate change. Organisers say it should be viewed alongside other meetings such as the COP23 in Bonn and the Global Climate Action Summit in California next year as components of the same mission.
The goal of the summit is to maintain efforts at the highest political level to tackle climate change.