Uma Thurman hits out at Harvey Weinstein in Thanksgiving #MeToo message
Comments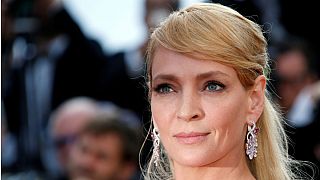 Uma Thurman yesterday (November 23) broke her silence on the Harvey Weinstein sexual misconduct scandal after previously saying she was too angry to comment.
Happy Thanksgiving Everyone! (Except you Harvey...

Actress
The Kill Bill actress posted a cryptic message on Instagram in which she said: "Happy Thanksgiving Everyone! (Except you Harvey, and all your wicked conspirators - I'm glad it's going slowly - you don't deserve a bullet.)"
Thurman also appeared to suggest that she too was a victim of sexual harassment in Hollywood, employing the MeToo hashtag, which social media users posted to show the scale of the problem across the world.Weinstein, who has been accused by multiple women in the film industry of rape, sexual assault and harassment, worked with Thurman on seven films including Pulp Fiction and the Kill Bill series.
The LAPD and NYPD opened investigations into his behaviour, which allegedly continued over decades.
These allegations were the catalyst for many other people to come forward about sexual misconduct they had experienced at the hands of powerful men in industries including sports, entertainment and politics.
Thurman made reference to a previous interview in which she said she was too angry to comment yet, writing: "#metoo, in case you couldn't tell by the look on my face."
The actress concluded with an elusive "stay tuned".
Rose McGowan, a vocal critic and one of Weinstein's first accusers, was quick to respond to Thurman saying: "Hello Uma. Welcome."