Hollywood calls time on workplace harassment
Comments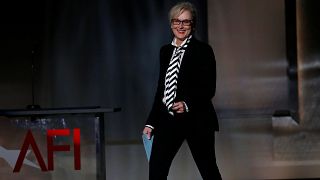 -
More than 300 actresses, writers and directors have launched a campaign to fight sexual harrassment in the film industry and other sectors.
The "Time's Up" project was announced via full-page ads in the New York Times and La Opinion Spanish language newspaper.
The initiative is backed by hundreds of film stars, including Meryl Streep, Emma Stone and Jennifer Aniston.
"The clock has run out on sexual assault, harassment and inequality in the workplace. It's time to do something about it," the letter says.
The project includes a legal defense fund to support both male and female victims of sexual harrassment in the workplace.
Hollywood has been rocked in recent months by allegations of sexual abuse against producer Harvey Weinstein and other prominent industry figures.
Time's Up is also urging women to wear black at the upcoming Golden Globes awards and to use the red carpet to draw attention to the initiative.