Sutherland Springs mourns shooting victims
Comments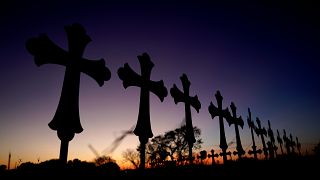 Details are emerging of the 26 victims who were killed by a gunman during a Sunday service in a small church in southern Texas.
Their ages range from 18 months to 77 years-old and officials have warned that the death toll could rise as half of those who were injured remain in critical condition.
Among those killed was Annabelle Pomeroy, the 14-year-old daughter of Pastor Frank Pomeroy and his wife, Sherri who had been away at the time of the attack.
"We lost more than Belle […] Now, most of our church family is gone. […] And the few of us that are left behind, lost tragically yesterday. As senseless as this tragedy was our sweet Belle would not have been able to deal with losing so much family yesterday. Please don`t forget Sutherlands Springs," pleaded Sherri Pomeroy.
A couple who had been married for 25 years, Bryan and Karla Holcombe, were among those killed along with their son, granddaughter and daughter-in-law.
These are victims of the Texas shooting. We should remember their names and faces. pic.twitter.com/dswypdi9uc

—

ATTN

: (@attn) November 7, 2017
Locals likes Sue Soto whose sister was injured in the shooting, are finding it difficult to come to terms with the loss of life:
"It's just sad, because everybody knows everybody around her (the town) and it's just a small town and you didn't think anything like this would happen over here. Because, you know, I tell my sister, why, why over here, why this little bitty town? Nothing ever happens here and then all of a sudden, that happened and it's just sad."
With President Trump away on a tour of Asia, Vice President Mike Pence has announced he will travel to Sutherland Springs on Wednesday to meet with the victims' families and local police.