Texas church shooting due to a 'domestic situation'
Comments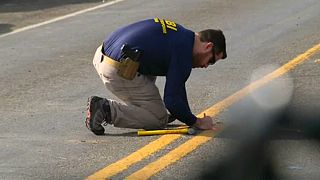 More details are emerging about the shooting at a rural church in Texas where a gunman fired on the congregation killing at least 26 people.
26-year-old Devin Kelley had a history of disturbing behavior, say the authorities. He walked into the church, fired an assault weapon and fled when a local resident shot at him. He was later found dead.
"The cause and manner of the death with the shooter will be determined by a pathologist during the autopsy," said Freeman Martin, Regional Director of the Texas Department of Public Safety. "However investigators found evidence at the scene that indicate the subject may have died from a self-inflicted gunshot wound. This was not racially motivated, wasn't over religious believes. There was a domestic situation going on within the family and the in-laws."
Texan officials say Kelley had sent threatening text messages to his in-laws.
The gunman's victims include the 14-year-old daughter of the church Pastor. One couple said they lost eight extended family members, including their pregnant granddaughter-in-law and three of her children.