Russian communists celebrate Bolshevik Revolution
Comments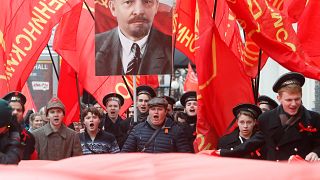 Thousands of Russian Communist Party members marched across downtown Moscow to mark the centenary of the 1917 Bolshevik Revolution.
Russia stopped celebrating the anniversary after the 1991 collapse of the Soviet Union, but the Communists continue to honour the date.
Foreign communists walked shoulder to shoulder with their Russian comrades and voiced their support for change.
Leonardo is a history teacher from Brazil: "Every day we see how capitalism divides societies and how it turns the most part of society into poverty so yes Revolution is still in today's agenda."
The government's reluctance to recognise the still-polarising event reflects deep divisions over the revolution in Russian society.
"According to one of the latest polls dedicated to the 100th anniversary of October Revolution, most Russians are for changes, but with the help of evolution. But more than 90% of participants are against any new Revolution," says Galina Polonskaya, Euronews correspondent in Moscow.