Russia avoids ostentatious celebration on 100th anniversary of Bolshevik Revolution
Comments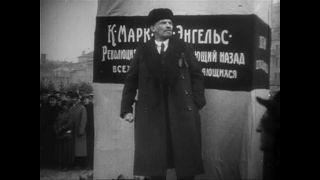 The Russian Communist Party celebrated the 100th anniversary of the Great October Revolution, a momentous event of the 20th century, with a parade around Moscow on Tuesday (November 7). But the celebrations have kept a low profile since the Kremlin does not wish to glorify a change of government obtained by force.
Unlike the majestic parades of the Soviet era on the Red Square, this year's parade re-creates the 1941 World War II military parade held in defiance of the German forces.
The Kremlin's spokesman Dmitry Peskov has said that President Vladimir Putin will treat the 7th of November like any other day. Putin has been ambiguous about his opinions on the Revolution that ended with the Tsarist government and started the era of Russian communism.
Meanwhile, the Russian Communist Party, which remains the biggest opposition party in the Russian parliament, programmed an event near a statue of Karl Marx, not too far away from the Kremlin.
For the time being, Putin has been able to avoid all the events organized for the anniversary, including a 3D light show projected on the façade of the Winter Palace in Saint Petersburg.
For the Kremlin, the Revolution's anniversary must be commemorated to "learn about the past."