NBA's James Harden scores career-high 56 points
Comments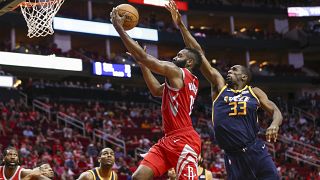 James Harden has joined the ranks of basketball's greats after scoring a career-high 56 points and adding 13 assists as the Houston Rockets beat Utah Jazz in Sunday night.
Only three players in history have more than one game of 50 points and 10 assists in the last 30 years. LeBron James and Russell Westbrook were two. Now James Harden is added to that list.
It was the sixth 50-plus-point performance by Harden, all in the past four seasons and his third performance with at least 50 points and 10 assists, all coming since the start of last season.
Harden fell one point shy of the franchise record held by Hall of Fame guard Calvin Murphy and received a standing ovation from the Toyota Center crowd.
It looks like Harden is well worth the NBA-record 228 million dollar contract extension he was paid earlier this year.