Lebanon faces political crisis after Hariri resignation
Comments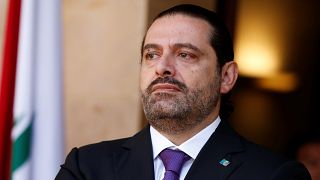 What now for Lebanon after the shock resignation of its Prime Minister Saad al-Hariri?
He made the announcement on Saturday from Saudi Arabia, a close ally of the leader.
Back home, Beirut's political establishment was stunned.
Hariri said he believed there is an assassination plot against him, accusing Iran and its Lebanese ally Hezbollah of sowing strife in the Arab world.
A Saudi government minister said Hariri was in Riyadh to ensure his safety.
His father, former prime minister Rafik al-Hariri, was killed in a 2005 bomb attack in Beirut.
With Lebanon now facing a new political crisis, a female resident of the Lebanese capital said: ''For sure, things will go from bad to worse because Hariri was helping the country greatly.
"He was helping prevent wars and terrorism but unfortunately he has resigned. I don't know why, maybe pressure from Saudi Arabia, or because Hezbollah refuses to lay down its arms.''
A man in Beirut added: 'It's all the same, with or without him."
"The country is not functioning. It is the same thing, over and over. Whatever he has been told to do, he will do. And that is it.''
Jumblatt: Lebanon too weak for Hariri resignation https://t.co/aPEQbAHGCgpic.twitter.com/hO6z4lFFl0

— Reuters Top News (@Reuters) 4 novembre 2017
As well as bringing down the coalition government, Saad's resignation thrusts Lebanon into the front line of a regional competition between Sunni Saudi Arabia and Shi'ite Iran.
with Reuters