Spain's Prime Minister calls for calm after Catalonia declares independence
Comments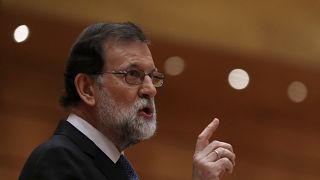 The Spanish Prime Minister, Mariano Rajoy has called for calm and said the rule of law would be restored in Catalonia.
The Spanish government moved to impose direct rule over Catalonia on Friday, stripping the region of its autonomy less than an hour after its parliament declared independence.
"The authorization that the Senate has given to the Government (Article 155 ), means we can now take the decisions to recover the rule of law and we will do it this afternoon." said Mr Rajoy.
"The objective is to regain legality. I therefore I say to all the Spaniards, to all Catalans, to stay calm, things will be done well, with moderation, effectively as we have done so far."
"Spain is a serious country, a great nation and we are not willing to accept in any way that some people intend to liquidate our Constitution, our rules of coexistence and the rules that have served Spain well for 40 years."
"Rules that have made the country one of the most democratic and prosperous in the world."
In an unprecedented move has not been seen in Spain since the return of democracy in the late 1970s, the Spanish Senate easily won permission to evoke article 155.
This allows central government to use "all measures necessary to compel" a region in case of a crisis, including enabling Madrid to take control of Catalonia's finances, police and public media.