WHO chief 'rethinks' naming Mugabe goodwill ambassador
Comments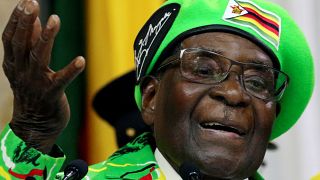 The head of the World Health Organization says he is "rethinking" his decision to name Zimbabwe's President Robert Mugabe a goodwill ambassador after a global outcry.
Health leaders, activists and governments have slammed the appointment.
Mugabe, 93, is blamed in the West for destroying his country's economy and numerous human rights abuses during his decades in power.
Britain said Mugabe's appointment was "surprising and disappointing" and added that it risked overshadowing the WHO's global work.
The United States, which has imposed sanctions on Mugabe for alleged human rights violations, said it was "disappointed".
"This appointment clearly contradicts the United Nations' ideals of respect for human rights and human dignity," a U.S. State Department spokesperson said.
"This selection underscores why the United States continues to push for U.N. reform and leadership actions that uphold our shared U.N. ideals."
Ethiopian Tedros Adhanom Ghebreyesus, the WHO's first African director-general, says he is now having a rethink in light of the UN agency's values.
I'm listening. I hear your concerns. Rethinking the approach in light of WHO values. I will issue a statement as soon as possible

— Tedros Adhanom (@DrTedros) 21 octobre 2017
with Reuters