Catalonia crisis: Madrid's deadline looms
Comments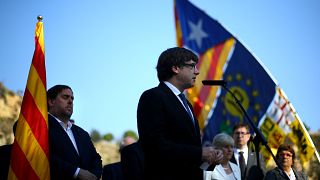 Catalonia's president Carles Puigdemont attended s a memorial in Barcelona on Sunday to mark the execution in 1940 of Catalan leader Lluis Companys.
It was a ceremony filled with symbolism and held as pressure mounts on Puigdemont to clarify if he did or didn't actually declare independence last week.
Madrid has said it wants an answer by Monday morning.
Speaking at the ceremony Puigdemont said: "On behalf of the government and myself, I want to reiterate our commitment to peace, civility, serenity, and also firmness and democracy as the inspiration for the decisions we have to make."
Spanish dictator Franco had Companys jailed and later executed in 1940. In a sign of the tensions between the central government and Catalonia's leaders one MP from Prime Minister Mariano Rajoy's People's Party has said a similar fate could befall Puigdement.
Accusing Madrid of failing to recognise his predecessor, Puigdemont added: "Companys has not received the dignified treatment from the state that he deserves, on the contrary, the party that governs Spain continues to diminish that crime while backing those who raise the fascist arm in demonstrations with total impunity."
Should Puigdemont clarify his position on Monday – Rajoy has said he will then give the Catalan leader until Thursday to change his mind if he insists on independence. After that, the Spanish premier has threatened to suspend Catalonia autonomous powers.