Hurricane Nate makes landfall in USA
Comments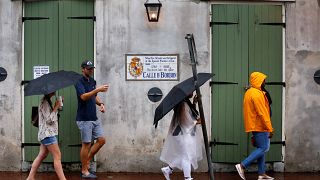 Hurricane Nate made landfall near the mouth of the Mississippi River late on Saturday, becoming the fourth major storm to strike the United States in less than two months.
Amid fears of torrential rain and potential flooding, states of emergency have been declared in Louisiana, Alabama and parts of Florida as well as in Mississippi itself.
With winds of some 140 km an hour, the Category One storm comes on the heels of Harvey, Irma and Maria, which devastated Texas, Florida and Puerto Rico, respectively.
Hurricane Nate making landfall near mouth of Mississippi River as Category 1 storm, hurricane center says https://t.co/NXSiRKODKBpic.twitter.com/nAJ6cv9M7K

— NBC News (@NBCNews) 8 octobre 2017
While Nate appears to lack the devastating punch of its predecessors, it has already caused death and destruction.
It killed at least 30 people in Nicaragua, Costa Rica, Honduras and El Salvador before heading north.
And, as well as unleashing its wrath on Central America, Nate has also shut down most oil and gas production in the Gulf.
with Reuters