South Korea fighting fit at Asian Indoor and Martial Arts Games
Comments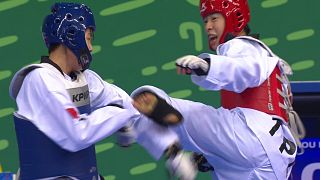 South Korea's taekwondo was on top of the world after it scooped seven medals at the fifth Asian Indoor and Martial Arts Games (AIMAG) in Ashgabat.
The team bagged four gold, two silver and one bronze. The gold medalists – two boys and two girls – are only seventeen years old.
Jun Jang, who was only seven when he came into this sport, said: "My parents were fond of taekwondo, so they inspired me. And now they are proud of me. I am very happy and have to admit that it was not easy to win the gold, some competitors were very strong."
Two bronze medals in taekwondo is a big victory for the Australian team, a newcomer to the Games.
Ruth Hock, 32, gave up international fighting and opened a taekwondo gym in Adelaide. She is back and has high hopes for her national team.
But there was a tinge of disappointment about going home with a bronze: "I am definitely happy! I have a medal! I was just hoping for a different color.
"For Australia I think it is fantastic, like having two medals, two bronze medals for taekwondo, you know it is better than nothing, obviously, and it is just getting us a little bit higher and higher and moving forwards, so we need to get on the podium more and this is a good step".
Taekwondo competitions are over, but combats continue:
Kurash is a martial art that was born in Uzbekistan. But it was Turkmenistan's Marat Orazov who won gold in the 66 kg category.
So far, the host country of the fifth AIMAG has the biggest number of golds, mostly, in the belt and traditional wrestling.